Welcome back for Part 15 of this System Center VMM series, in this post I will talk to you about Guest OS Profiles
As with Hardware Profiles, Guest OS Profiles can be used with deployment of new Virtual Machines. If you use templates these can be good to use along with VM Templates to deploy virtual machines.
A Guest OS Profile can be configured to do quite a few diffrent things. You can create one for a set Operating System, and attach a Answer File to run against that OS.
You can also create a profile that installs IIS, or other Roles and Features. So if you are deploying alot of IIS, DC, DHCP servers and so on, would it not be nice to have it pre installed when the servers id deployed. And you can also use it to join computers to the domain. This one is also located under Library and Profiles.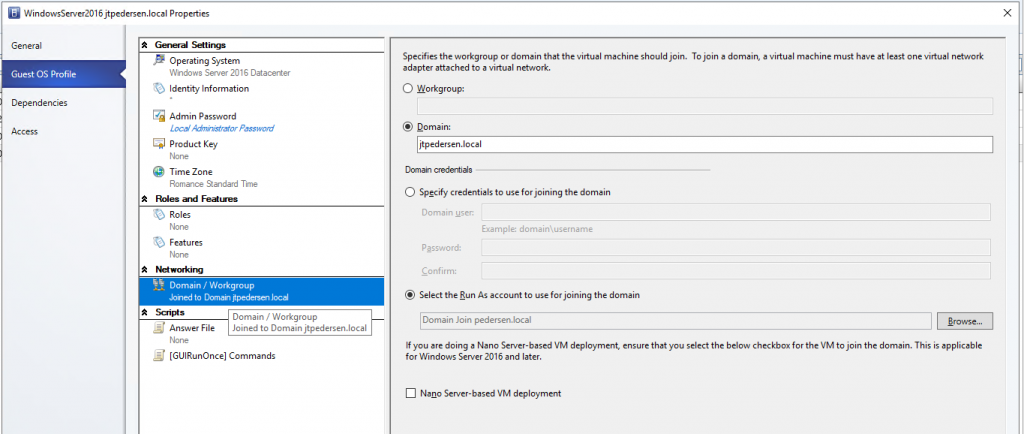 To domain join i will recommend that you have a Run as Account that has domain join privileges in the domain the VM is joining too. If you are a hoster with 100's of clients, this will make your life alot better.
Again i recommend creating descriptive names of the guest OS Profile, so that those that has access to it know's what it is. If it's in 2019 IIS server for Domain adatum.com. You could name the profile "WS2019IIS adatum.com", try to keep it as simple as possible.
Now go ahead and play with it, create the profiles you need, and come back for the next post that will be VM Templates
How to configure System Center VMM Part 1 – Basic Design
How to configure System Center VMM Part 2 – Host Groups
How to configure System Center VMM Part 3 – Logical Network
How to configure System Center VMM Part 4 – Port Profiles
How to configure System Center VMM Part 5 – Logical Switches
How to configure System Center VMM Part 6 – Library Server
How to configure System Center VMM Part 7 – Run As Accounts
How to configure System Center VMM Part 8 – Deployment Server
How to configure System Center VMM Part 9 – Driver Tagging
How to configure System Center VMM Part 10 – Physical Computer Profiles
How to configure System Center VMM Part 11 – Bare Metal Deployment
How to configure System Center VMM Part 12 – Update Server and Baselines
How to configure System Center VMM Part 13 – Patching Hosts
How to configure System Center VMM Part 14 – Hardware Profiles
How to configure System Center VMM Part 15 – Guest OS Profiles
How to configure System Center VMM Part 16 – VM Templates
How to configure System Center VMM Part 17 – Clouds