In the previous blog post i talked about how you should define your host groups. Separate Datacenters, what type of "servers" they are, if they are Fabric Management, IaaS, SQL clusters and so on. Depending on your servers. Now let's have a look at your Logical Networks
So i defined some host main groups like DC1, DC2 and DC3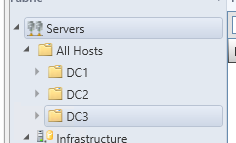 Under these i defined Fabric Hosts and IaaS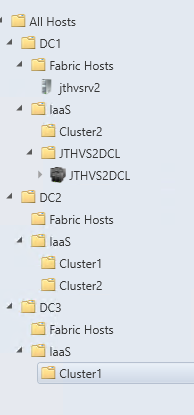 Logical Networks
This allows me to create several Sites within a Logical Network set on a single or multiple Host Groups. If i define a Logical Network for Hyper-V Management network for your hosts to communicate.

Now to something very important. Host Logical Networks should always be a One Connected Network. And Virtual Machine Logical Networks should be Vlan-based independent networks. Or if you need isolated, Private Vlan.

Network Sites
When you create a Hyper-V Management Logical Network you need to create some Network Sites. And here you can create 1 for each Datacenter. And link that to the Host Group it needs.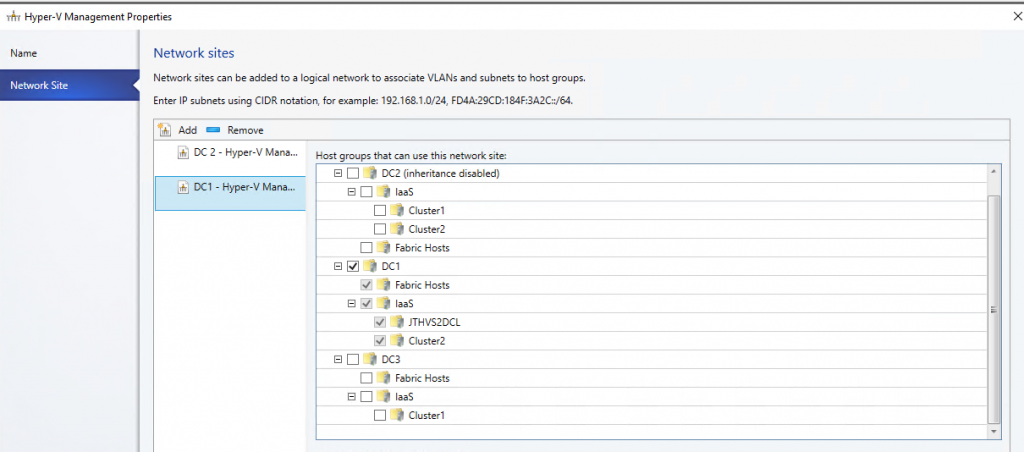 When you do this you can have 1 Logical Network visible and multiple Network Sites within that Logical Network spread across multiple host groups. So when you move a VM between Datacenters you don't need to change the Logical Network it will detect the right network on the other DC and show you and option. Or for physical hosts it will come more clear in the Logical Switch design.
You can specify a subnet and VLAN under the Network Site. The VLAN need to be a correct one. If you do bare metal deployment the vlan tag should be 0. As you wan't to PXE boot from an untagged port.

If you run Storage Spaces Direct, create a Hyper-V Storage Logical Network with some Network Sites for your SMB networks, 1 Network Site pr Cluster will do.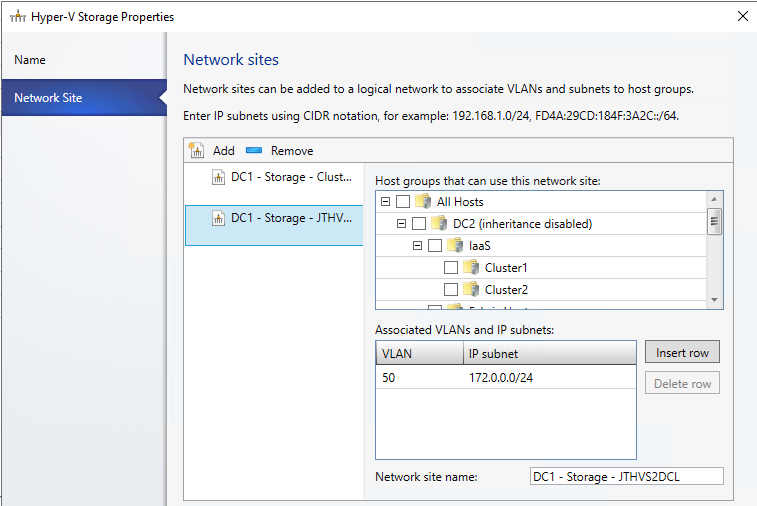 IPPools
I would also recommend setting up IPPools for your physical hosts. As this will allow you to give out IP addresses from VMM. IPPools are not DHCP and will only be given out to Hosts or VM's deployed from VMM. If you don't have DHCP IPPools is a good way to automatically give out IP addresses to your virtual machines.
I have defined IPPools pr DC for Hyper-V management and pr DC and cluster for SMB interfaces.

Client Network
One of the things you will work with the most, is the client net's. If you are a hoster this can become quite alot if you create 1 pr client. There are 2 ways of doing this.
1 Logical Network pr client with all there Network Sites within that Logical Network.
Or as some do, create 1 Client Logical Network and create a Network Site pr Client. Only issue with this is if you have alot, it's not sortable or searchable. With 1 Logical Network pr client you can search.

So this is my recomended solution to you. To have 1 Logical Network pr client for hosters. And if you are small enough as well.
This concludes Logical Networks for now. Next up is Port Profiles, stay tuned for that one.
How to configure System Center VMM Part 1 – Basic Design
How to configure System Center VMM Part 2 – Host Groups
How to configure System Center VMM Part 3 – Logical Network
How to configure System Center VMM Part 4 – Port Profiles
How to configure System Center VMM Part 5 – Logical Switches
How to configure System Center VMM Part 6 – Library Server
How to configure System Center VMM Part 7 – Run As Accounts
How to configure System Center VMM Part 8 – Deployment Server
How to configure System Center VMM Part 9 – Driver Tagging
How to configure System Center VMM Part 10 – Physical Computer Profiles
How to configure System Center VMM Part 11 – Bare Metal Deployment
How to configure System Center VMM Part 12 – Update Server and Baselines
How to configure System Center VMM Part 13 – Patching Hosts
How to configure System Center VMM Part 14 – Hardware Profiles
How to configure System Center VMM Part 15 – Guest OS Profiles
How to configure System Center VMM Part 16 – VM Templates
How to configure System Center VMM Part 17 – Clouds