Welcome back for Part 7 of this System Center VMM series, in this post I will talk to you about Run As Accounts
In the previous posts i have spoken about a few different fabric items that needs to be inplace for Bare Metal deployment and some for deploying VM's. Run As Accounts is needed for deploying the VMM agent to fabric resources like Hyper-V hosts, fileserver, pxe server, wsus and so on. And gives VMM an acount to communicate with diffrent Fabric resources.
There are a few other rely nice benefits of creating Run As Accounts. Let me list them
VMM Admin Account(You know this one for Fabric resources)
Local Admin Account to set local admin password.
Domain Join accounts
IPMI/BMC/ILO/iDRAC account
Local Admin Account
Defining a Local Admin password is nice for troubleshooting if something fails. But you should always use LAPS so that the password do get changed after the server is Domain Joined.
Domain Join Accounts
Domain Join accounts, i can't rely tell you how nice this is to have when deploying virtual machines or physical computers. To not have to login to a machine and do this procedure your self. This can be used for VM Templates, Guest OS Profiles of Physical Computer Profiles.
IPMI/BMC/ILO/iDRAC Accounts
This one is needed if you do Bare Metal Deployment. And will be used to connect to the diffrent BMC solutions you have.
One important thing to notice is that on non Domain Run As Accounts remember to remove the Validate Credentials tab.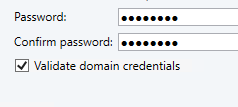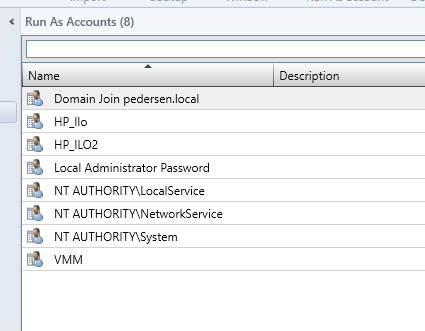 To create a Run As Account it's as simple as right click and fill inn the needed credentials.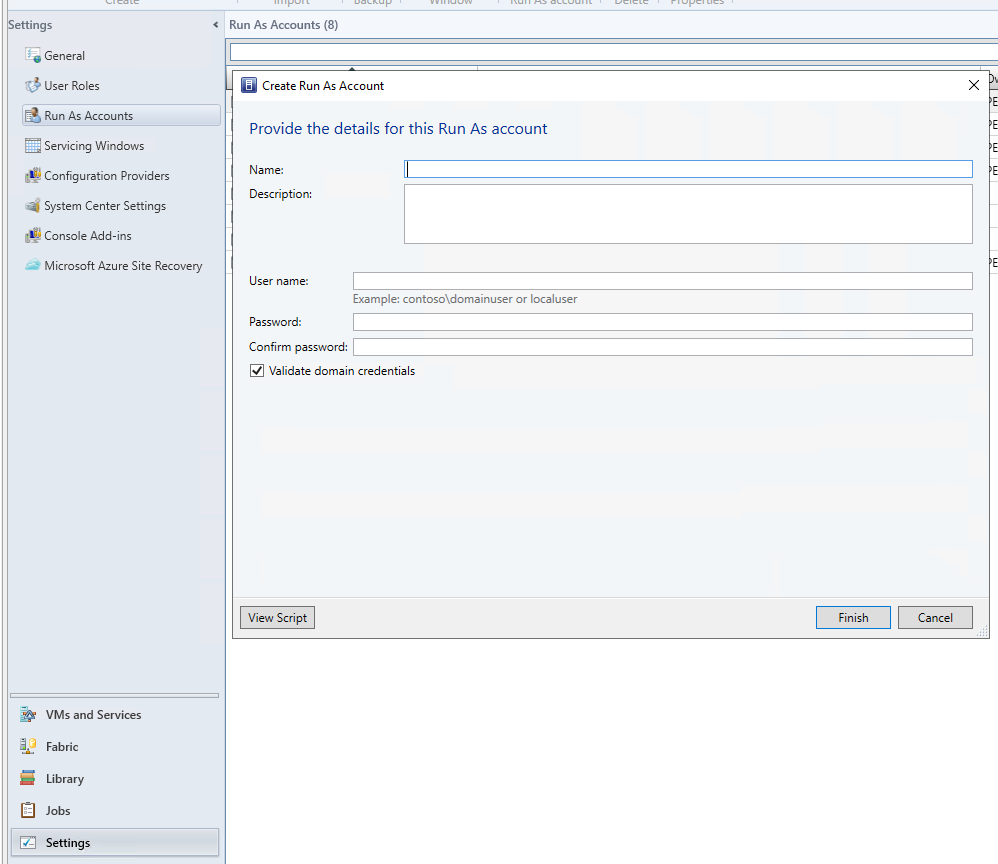 Stay tuned for the next post, where i will write about Physical Computer Profiles
How to configure System Center VMM Part 1 – Basic Design
How to configure System Center VMM Part 2 – Host Groups
How to configure System Center VMM Part 3 – Logical Network
How to configure System Center VMM Part 4 – Port Profiles
How to configure System Center VMM Part 5 – Logical Switches 
How to configure System Center VMM Part 6 – Library Server
How to configure System Center VMM Part 7 – Run As Accounts
How to configure System Center VMM Part 8 – Deployment Server
How to configure System Center VMM Part 9 – Driver Tagging
How to configure System Center VMM Part 10 – Physical Computer Profiles
How to configure System Center VMM Part 11 – Bare Metal Deployment
How to configure System Center VMM Part 12 – Update Server and Baselines
How to configure System Center VMM Part 13 – Patching Hosts
How to configure System Center VMM Part 14 – Hardware Profiles
How to configure System Center VMM Part 15 – Guest OS Profiles
How to configure System Center VMM Part 16 – VM Templates
How to configure System Center VMM Part 17 – Clouds