So let's talk about Host Groups, this is in my opinion one of the most important part of setting up VMM right. You wan't to separate and segregate your hosts and virtual machines.
You are probably wondering why is this important? It comes back to the question about Logical Networks and how you can separate access and automate a lot easier.
When we design a VMM Host Group Structure we look at a client's setup. How are there datacenter or datacenters setup. What do they do. In short always seperate what is Fabric/Management hosts into a seperate host group. And your IaaS that serves everything else into it's own group. If you have a large SQL setup you can create one for that as well.
Let's say for this argument a client has 3 datacenters. They have some management servers in each for there seperate Fabric domain that runs everything for only the Hyper-V hosts. And they have some IaaS clusters and some SQL clusters.
What we would do is create a structure that looks like this
All Hosts
DC1
Fabric Managemnet
IaaS
Cluster1
Cluster2
SQL
Cluster1
DC2
Fabric Managemnet
IaaS
Cluster1
Cluster2
SQL
Cluster1
DC3
Fabric Managemnet
IaaS
Cluster1
Cluster2
SQL
Cluster1
This will allow you to segregate your infrastructure parts from eachother. And create rules on what can go where, for Logical Networks, Logical Switches and alot more. I will come back to that in a later blog post.
This is how it would look like in your Host Group tree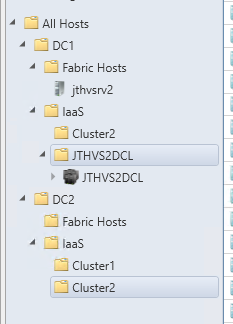 How to configure System Center VMM Part 1 – Basic Design
How to configure System Center VMM Part 2 – Host Groups
How to configure System Center VMM Part 3 – Logical Network
How to configure System Center VMM Part 4 – Port Profiles
How to configure System Center VMM Part 5 – Logical Switches
How to configure System Center VMM Part 6 – Library Server
How to configure System Center VMM Part 7 – Run As Accounts
How to configure System Center VMM Part 8 – Deployment Server
How to configure System Center VMM Part 9 – Driver Tagging
How to configure System Center VMM Part 10 – Physical Computer Profiles
How to configure System Center VMM Part 11 – Bare Metal Deployment
How to configure System Center VMM Part 12 – Update Server and Baselines
How to configure System Center VMM Part 13 – Patching Hosts
How to configure System Center VMM Part 14 – Hardware Profiles
How to configure System Center VMM Part 15 – Guest OS Profiles
How to configure System Center VMM Part 16 – VM Templates
How to configure System Center VMM Part 17 – Clouds