So you have a DPM server and are thinking, it could be nice to have a offsite backup of my backups.
There are 2 ways to go. You can enable the DPM Azure Cloud backup. Wich is a nice feature. But it's more for having a longer retention of your backup. And you will need to either reinstall the DPM server or install the Azure Backup Server somewhere and connect it to the Recovery Service Vault to restore the data.
Register your Azure subscription
Then you can enable online protection along with disk protection.
This solution is quite good, it gives you a good flexebility and can setup a realy god retention policy. And the storage is not too bad priced.
The other option is to setup a 2nd DPM server to backup you primerary DPM server.
So what we need is a new server installed with DPM, once that's done let's connect the 2nd DPM server to the first one.
Go into Managment and click on add a new server, when you get to the deployment type, choose Attach agents and Computer on trusted domain if the DPM servers are domain joined.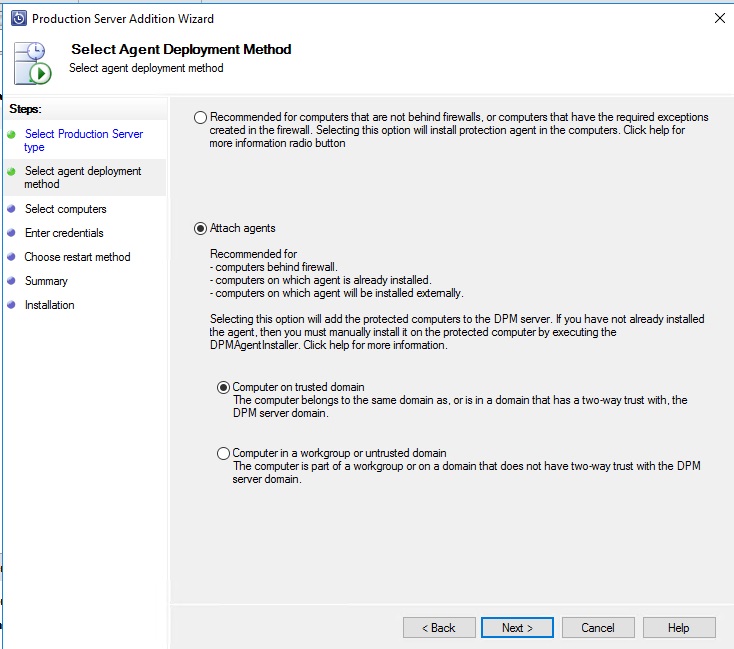 The rest is normal where you find the pri DPM server, add it, enter credentials and next next done and it's added.

Now that we have the secondary DPM server connected to the Primary DPM server we can go and create some protections groups. So let's click on create a new and choose what we need to protect. The view is a bit different this time as we only have 2 DPM servers in the list, if we click on the Primary one and click refresh you will get a new list. Showing you the what's on the DPM server, clusters you are protecting and protected servers which is the HyperV hosts it self.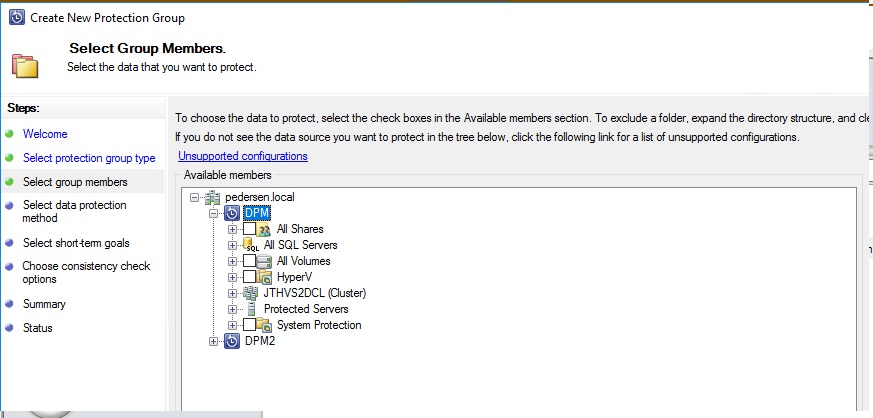 If you click on the Cluster it will show you all the VM's that are on the cluster. If you click on a VM that is not beeing backed up it will not give you an option to back it up.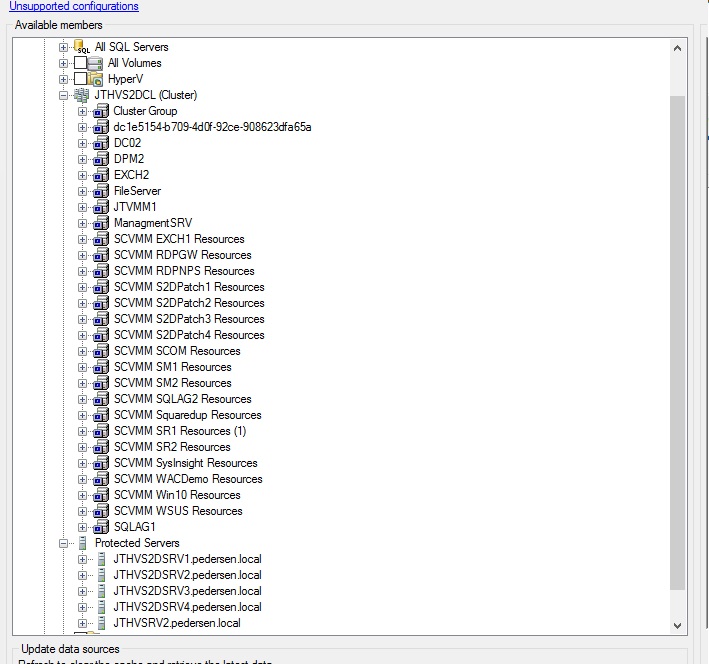 When configuring the backup of the primary DPM server always make sure that you take a backup of the Database as well. As that will give you the option to restore the DPM server with the database if the OS should fail. And your backups will be intact on the backup disk.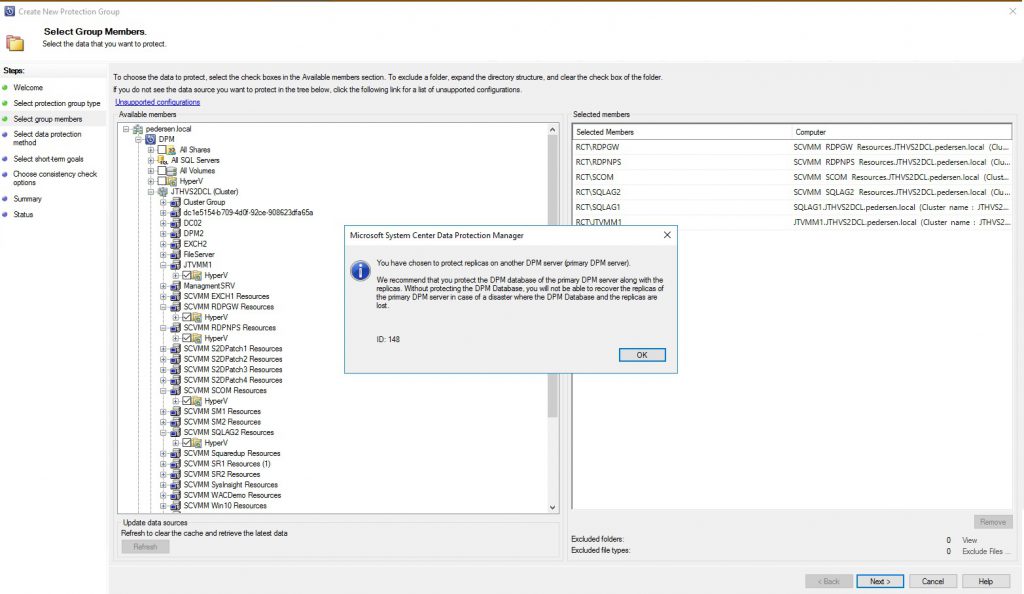 Also there is no option to choose when to backup the data from the Primary DPM server. Only a synchronization schedule. Wich you can offset from 12am.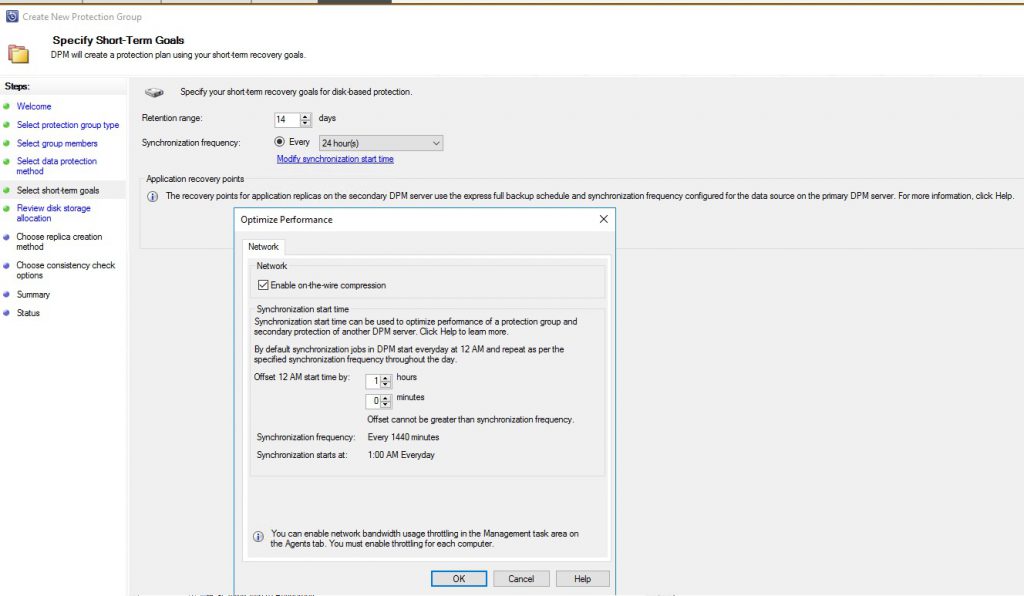 Then click next next done and it starts to sync the things you started to take backup of.
Any restore from 2nd DPM server can be done like on the Primary DPM server, but you can also restore to primary DPM server also.